(breitbart) – Email exchanges between Joe Biden's family and business associates show the Bidens planning to cash in on the family name in an academic venture with the University of Delaware while discussing ways to carefully distance Joe himself from financial documents outlining the deal.
Team Biden was to receive $12.5 million for the establishment of the Biden Institute at the University of Delaware (UD), which launched shortly after Joe Biden left the vice presidency in 2017. The arrangement meant a nice payday for the Bidens and their associates. And, as it turned out, the launch of the Biden Institute coincided with a bonanza in foreign money donations for the university. Correspondences show that UD wanted Joe Biden to raise funds for the university after his institute opened.
In the weeks and months following the opening of the Institute, UD received foreign cash donations totaling more than $33 million, including $6.7 million from China. Of that sum, three gifts came directly from the Chinese Communist government.
In a series of email exchanges that included Hunter Biden, Valerie Biden Owens (Joe's sister who called Hunter Biden the "central person" in the UD plans), two of Owens's daughters (Joe's nieces), and various Biden business associates, they discussed ways that they could benefit from Biden's academic ventures and having "the Biden Foundation" or a "family member" sign a Memorandum of Understanding ("MOU") "on behalf of the VP." Emails from Hunter Biden's abandoned laptop show that UD and Team Biden negotiated ways to compensate Biden family members, including Joe Biden's sister Valerie Biden Owens.
Former U.S. Senator Ted Kaufman (D-DE)—a longtime Biden associate—was central to the Bidens' academic negotiations. In an August 30, 2016, email, Kaufman advised Team Biden: "When it comes to the [UD Memorandum of Understanding] MOU, probably less detail about what we are doing the better."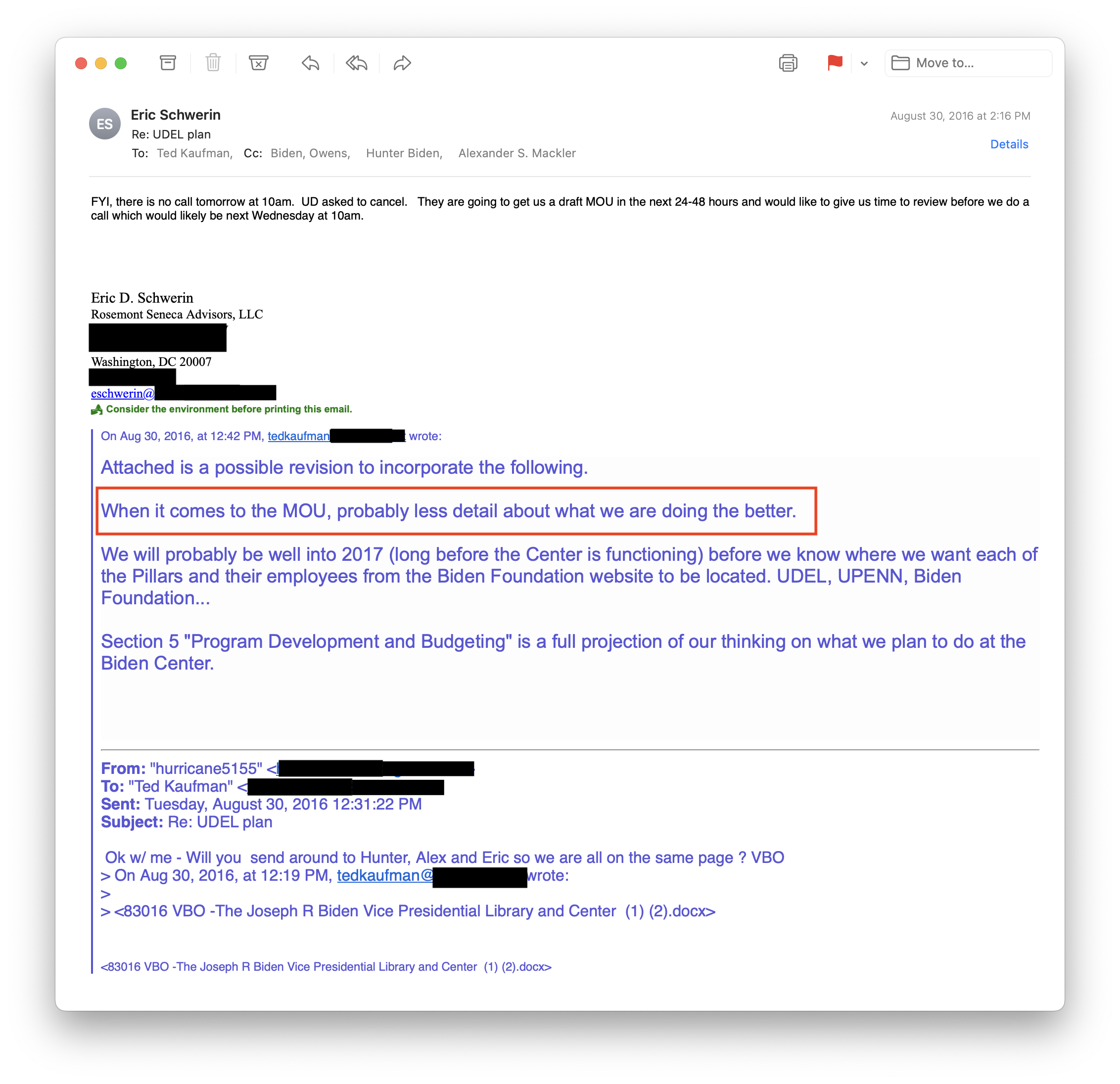 Since Joe Biden would be publicly associated with the UD institute that bore his name, it is unclear why it was important to keep Joe's name off the MOU. But it was not the first nor last time that the elder Biden—the "big guy" or Hunter's "chairman"—was referred to opaquely in business correspondence or that Biden business associates were instructed to "don't mention Joe."
Having a private family member sign on his behalf would be one way to avoid having to disclose the precise amounts of money, if any, that Joe Biden would be paid. Indeed, Joe Biden disclosed zero income from UD while disclosing nearly $1 million in personal income from the University of Pennsylvania (Penn), which houses the Biden Center. (As it happens, Penn has also seen an influx of foreign donations from China since the launch of the Biden Center in 2017.)
For whatever reason, UD either did not pay Joe Biden any money or they paid it to someone else on his behalf, thereby bypassing the need for disclosure. UD has not responded to requests from my organization, the Government Accountability Institute, for clarification on the arrangement.
This news comes as House hearings have brought new focus to the tactics used to obscure the Biden family's sources of income. Last month, Breitbart News reported that China's military-linked CEFC energy company funneled approximately $3 million to a Biden associate who, in turn, distributed the money to multiple Biden family members in a series of smaller payments.
Hunter Biden, James Biden (Joe's brother), Hallie Biden (Hunter's paramour and the widow of Joe's son, Beau Biden), and a mystery individual who was only identified as "BIDEN," were among the Biden family members who received tranches of China-linked cash.
The email exchanges regarding the University of Delaware may suggest a possible answer to the mystery of how the Biden family made money: by brokering access to then-Vice President Joe Biden.
In an email on August 9, 2016, longtime Biden business associate Eric Schwerin related to the Bidens his conversation with "Alan," who appears to be UD's Executive Vice President of Finance and Facilities, Alan Brangman:
I just got off the phone with Alan at UD. I was doing some follow up with him per our last call. Few things we discussed.

1) To confirm, the budget for the Biden Center is $2.5m a year for five years. For a total of $12.5m over the five years. I know there was some question about that. [Emphasis added]

2) They are happy on their end to have consulting contracts for the employees of the Center. They have cleared that on their end. The consulting contracts can begin once we finalize the MOU and then the clock will begin ticking on the $2.5m budget for year one. So, it is up to us how much the consulting contract is for as long as it is within budget and can be justified vis a vis other consulting contracts.

3) That $2.5m budget include salaries, benefits and operational expenses. So, if the Biden Center wants to put together a series of seminars, the funding for those seminars would come out of the $2.5m. The Biden Center can get sponsors to defray some costs, but we should keep in mind that the whole $2.5m can't be spent on salaries. We need to start thinking programmatically what the Biden Center would do in year one and how much it might cost. Then we'll know what we are left with for salaries/consulting contracts. [Emphasis added)

4) The counter-party to the MOU in UD's mind would not be the VP personally but could be the Biden Foundation or potentially a family member signing on behalf of the VP (Hunter or Val?). We should discuss who we want it to be." [Emphasis added]
This email from Eric Schwerin, who is now cooperating with the congressional committee that is investigating the Biden family's foreign business dealings, confirms that the Biden academic venture at the University of Delaware would provide up to $12.5 million in cash to directly fund the Bidens' plans there.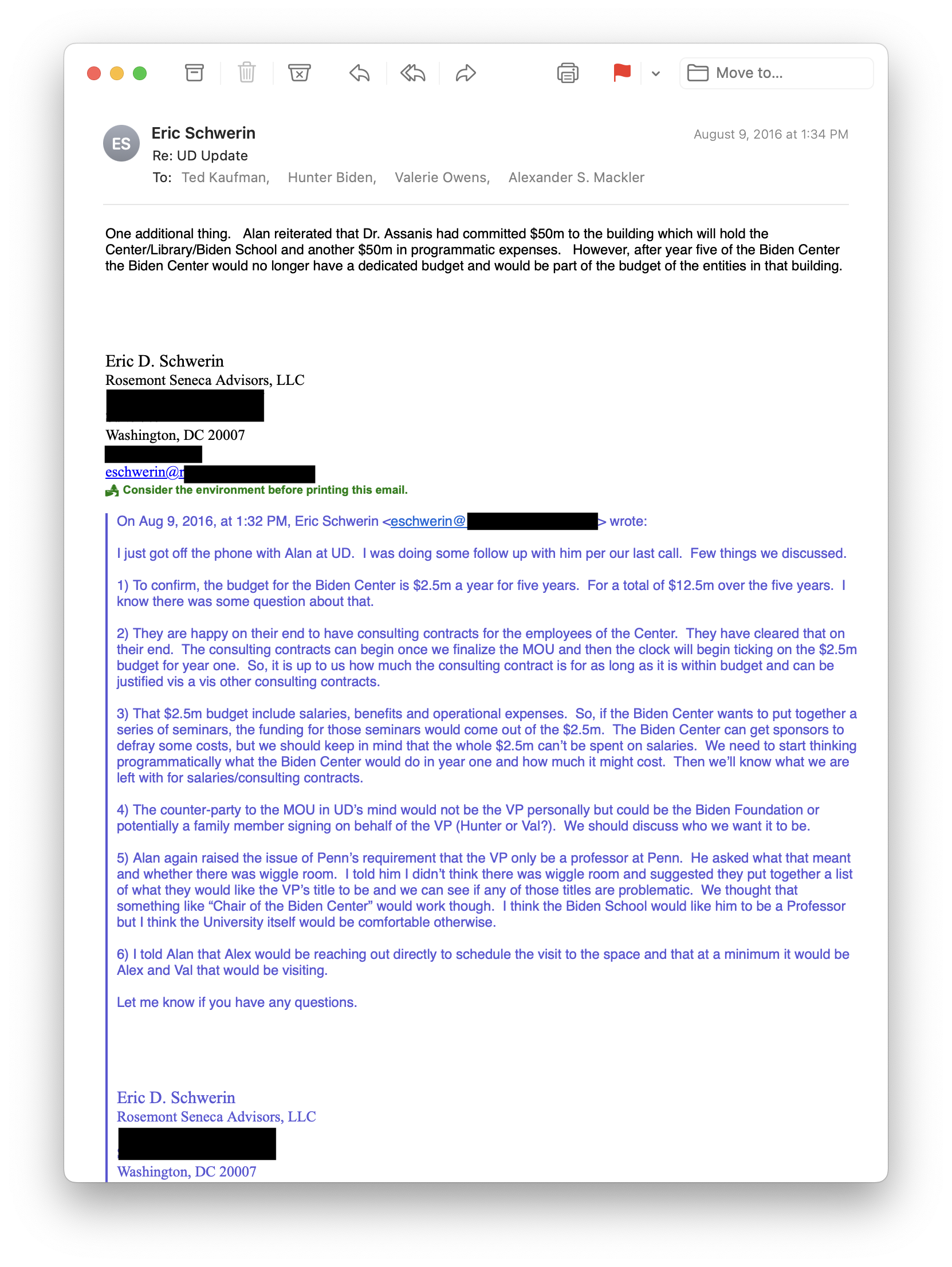 According to a follow-up correspondence from Schwerin on the same day, UD's incoming president Dr. Dennis Assanis apparently agreed to spend staggering sums—up to $100 million over five years—building out the Biden Institute, including either by constructing a new building or by renovating an old building to house the Biden Institute on UD's campus.
On June 11, 2016, Hunter received an email from his aunt Valerie Biden Owens concerning the issue of "salaries." As they were working out how the academic ventures should be structured, Valerie Biden Owens wrote to Hunter:
Hunter – Hopefully UD will get back to us soon so that we can make our plans. We need to confirm space and funds available for salaries … and those new drapes that JRB [Joseph Robinette Biden] will want in his office. xoxo avbo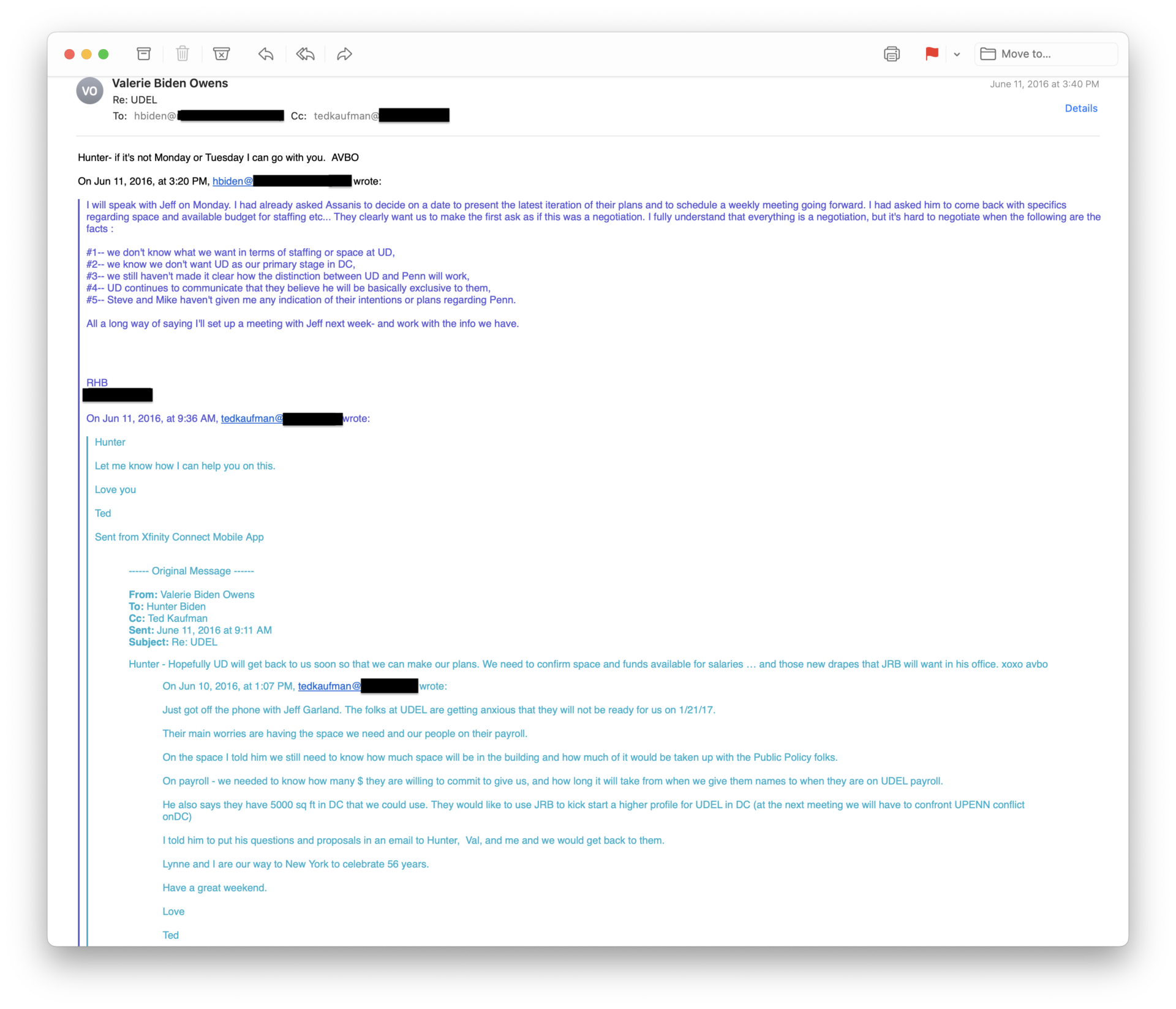 Correspondences show that Valerie Biden Owens was the only Biden family member for whom a firm compensation was negotiated (though UD suggested that Joe Biden would be on the payroll). In an August 24, 2016, email laying out the timeline of UD negotiations, Schwerin suggested that October 15 or November 1, 2016 would be the date that "UD signs Consulting Contract with Valerie Owens or her LLC for $12,500 a month for one year."
The Biden Foundation was apparently tied up in the UD negotiations and, according to Schwerin, planned to sign a "Consulting Contract with Valerie Owens or her LLC for $12,500 a month for one year." If executed, these agreements would bring Valerie Biden Owens' first-year compensation to $300,000.
Valerie Biden Owens ultimately landed the position of "Vice Chair" of the institute when it opened in early 2017. She was promoted to Chair of the Biden Institute in February 2020—a position she holds today—though her current compensation is unknown.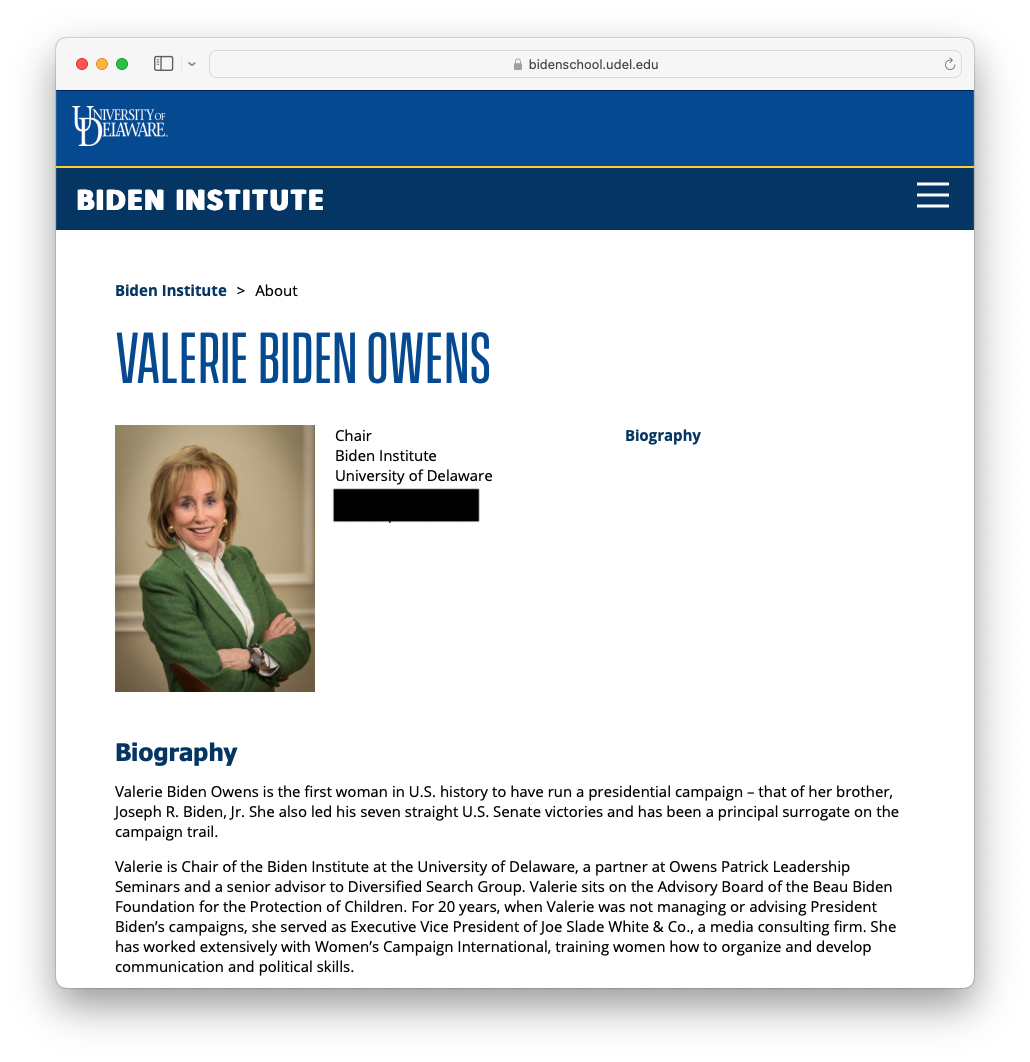 Schwerin's August 2016 email provides another example of how the Biden family discussed ways to shield Joe from disclosure. Ex-Biden business associate Tony Bobulinski provided messages to the FBI and Congress that revealed that the Bidens were nervous any time Joe's name was mentioned in relation to their Chinese dealings. For example, in a May 2017 exchange between Bobulinski and another Biden business associate involved in the CEFC negotiations named James Gilliar, Bobulinski was warned not to mention Joe Biden's name in writing. "Don't mention Joe being involved, it's only when u are face to face, I know u know that but they are paranoid," Gilliar wrote. "OK they should be paranoid about things," Bobulinski replied.
This also raises questions about the so-called "Mystery Biden" who received a chunk of the $3 million passed through from CEFC.
Perhaps the most mysterious aspect of Biden's academic ventures at Penn and UD was how they were conceived. The initial plans for both the Penn Biden Center and the Biden Institute at UD were apparently hatched by Joe's son Hunter Biden, Joe's sister Valerie Biden Owens, Valerie's daughters (Joe's nieces), and Hunter's business associates.
These plans were set in motion while Joe Biden was still the vice president and at the same time that Biden family members were making deals with foreign oligarchs.
In March 2016, Hunter Biden met with UD's incoming president Dr. Assanis. Emails from Hunter's abandoned laptop show that he, the Biden family members, and his business associates wanted to use the Penn Biden Center and UD Biden Institute as a "stage" to promote the "Biden brand."
Emails show that the Biden academic ventures could operate like the "Clinton Global Initiative without the money raise." When Joe Biden announced the opening of his institute, UD said that the Biden Institute would operate "similar to the World Economic Forum or the Aspen Institute."
We previously reported that at the same time Joe Biden was setting up his institute at UD, multiple members of the Biden family were making deals—worth millions of dollars—linked to the highest levels of Chinese intelligence.
For a full analysis of these findings, watch the following episode of The Drill Down podcast with this author and Government Accountability Institute President Peter Schweizer here:
breitbart.com/politics/2023/04/01/anatomy-of-a-biden-family-business-deal-get-son-hunter-or-sister-valerie-to-sign-on-behalf-of-the-vp/