(informationliberation) – Michael Reinoehl, the Antifa terrorist who shot and killed beloved Trump supporter Aaron Danielson in Portland on Saturday night, has been killed by law enforcement.
From The New York Times:
Suspect in Fatal Portland Shooting Is Reported Killed as Officers Move In
Michael Forest Reinoehl, an antifa supporter, died when law enforcement went to arrest him. He was being investigated in the fatal shooting of a member of the far-right group Patriot Prayer.
SEATTLE — A man being investigated for the fatal shooting of a right-wing activist who was part of a pro-Trump caravan in Portland, Ore., was killed on Thursday night when authorities moved to arrest him, according to three law enforcement officials familiar with the investigation.
The officials said the suspect, Michael Forest Reinoehl, 48, was killed during the encounter in Lacey, Wash., southwest of Seattle, when a federal fugitive task force moved to apprehend him.
An arrest warrant had been issued by the Portland police earlier Thursday, on the same day that Vice News published an interview with Mr. Reinoehl in which he appeared to admit to the shooting, saying, "I had no choice."
The Portland police had been investigating Saturday's shooting death of Aaron J. Danielson, one of the supporters of Mr. Trump who came into downtown Portland and clashed with protesters demonstrating against racial injustice and police brutality.
Mr. Reinoehl had been a persistent presence at the demonstrations in Portland over recent weeks, helping the protesters with security and suggesting on social media that the struggle was becoming a war where "there will be casualties."
Reinoehl admitted to carrying out the murder in an interview with the far-left propaganda outlet VICE that released on Thursday.
Reinoehl shared what many called a "manifesto" on Instagram where he stated clearly, "I am 100 % ANTIFA all the way!"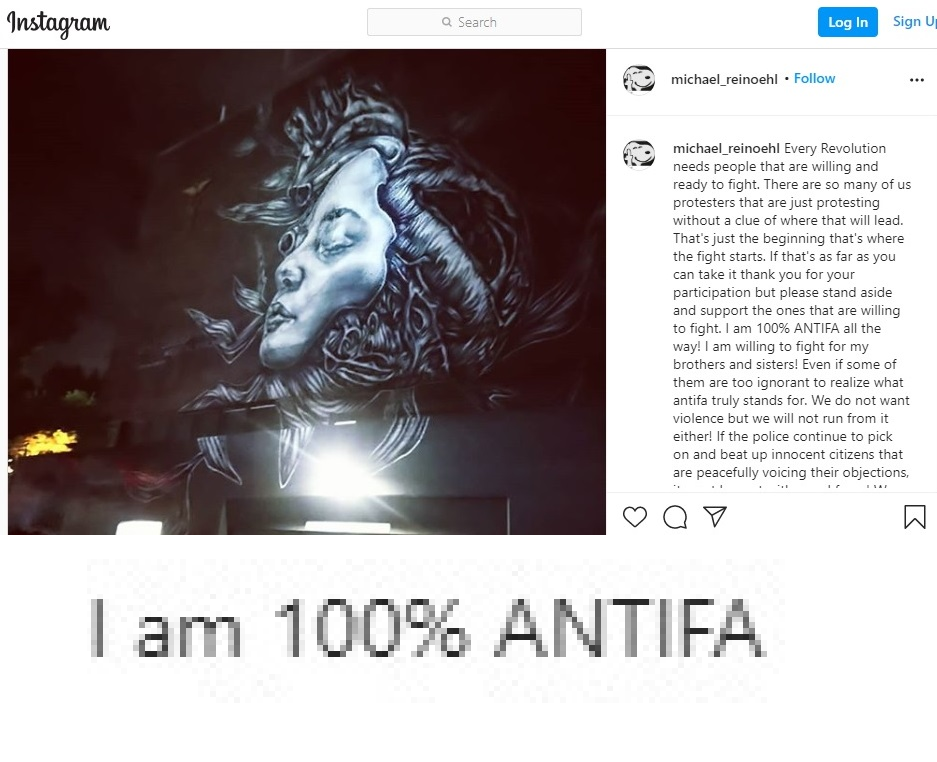 "Every Revolution needs people that are willing and ready to fight. There are so many of us protesters that are just protesting without a clue of where that will lead. That's just the beginning that's that where the fight starts. If that's as far as you can take it thank you for your participation but please stand aside and support the ones that are willing to fight. I am 100 % ANTIFA all the way! I am willing to fight for my brothers and sisters! … We do not want violence but we will not run from it either! … Today's protesters and antifa are my brothers in arms," Reinoehl said in a post on June 16.
informationliberation.com/?id=61701