(informationliberation) – The Washington Examiner ran a hysterical column on Monday from "former" CIA officer Kevin Carroll calling for Americans who took part in the mostly peaceful protests at the Capitol to be "ruthlessly hunted down" and treated like Al Qaeda terrorists.
From The Washington Examiner, "How to fix our domestic terrorist problem":
Democrats such as Attorney General-designate Merrick Garland and Senate Majority Leader Chuck Schumer should use their executive and legislative power over the next 23 months to do the following five important things.
First, bring the heaviest felony charges possible on as many participants in the insurrection as the Justice Department can identify and believes it can confidently convict. We ruthlessly hunted down foreign terrorists after the Sept. 11, 2001 attacks and must do the same to their domestic equivalents. […]
Second, make fire and police departments that receive federal grants have their members sign commitments not to engage in acts to overthrow the government. Prosecute any who subsequently violate their oaths. We could also cut or suspend federal funding to departments that fail to introduce these measures. […]
Third, do not worry about Section 230 of the Communications Decency Act. Rather than ban extremist chatter through government censorship or private de-platforming, use radical chat rooms as honeypots, as FBI-led Joint Terrorism Task Forces have done with violent, radicalized Islamists since 2001. […]
Fourth, use the supremacy of federal law to ban "militias" beyond the National Guard. […]
Fifth, add domestic terrorism as a predicate to the material support for terrorism statute, including its civil liability provisions. This will provide new means of successful prosecutions and gradually increased deterrence against domestic terrorists. […]
Kevin Carroll served as senior counselor to the secretary of homeland security and chairman of the House Homeland Security Committee and as a CIA and Army officer in Afghanistan, Iraq, and Yemen.

Carroll's bio says he worked for a branch of The Lincoln Project.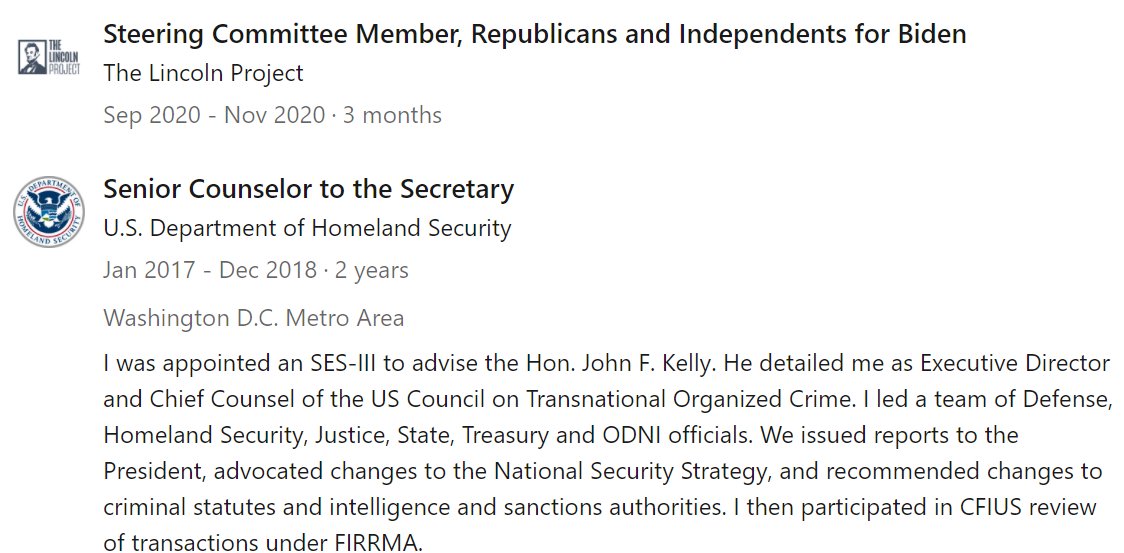 The Lincoln Project was just exposed as The Grooming Project.
Interestingly, Carroll went on Fox News right after Jeffrey Epstein's alleged "suicide" to explain away his death as "incompetence" on the part of jail guards and dismiss "conspiracy theories" surrounding the event.
Fox News failed to disclose that Carroll is a "former" CIA officer.
The notion this what took place on Jan 6 was an "insurrection" or a "coup" attempt is absolutely comical.
As John Pilger said last month, "Coups are what the CIA stages all over the world."
The only "coup" that's taken place is our ruling oligarchs overthrowing the will of the people by sabotaging Trump's presidency and attempting to bring in a military dictatorship where all dissent is deemed "terrorism."
informationliberation.com/?id=62031